Peanut roaster is an important machine in the peanut butter production line, which is mainly used to bake the peanuts without the hard shells. Compared with other nuts, the peanut is delicious and affordable. It is one of the largest nuts in the world, so the market is very wide. In Taizy machinery, we use the peanut roaster manufactured by the newest technology to bake peanuts. There are two heating methods: electric heating and gas heating. It can not only ensure that each peanut is evenly roasted, but also ensure that its unique taste will not be changed. Next, we will introduce you to two peanut baking machines with different yields for you to choose from.
Working Principle of Peanut Roaster
Our groundnut roasting machine uses electric heating and gas heating to raise the temperature of the drum inside the machine. And the internal spiral plate plays the role of turning the peanut in the process of rotation so that each peanut can be evenly heated. The forward rotation can make the peanut bake evenly, and the reverse rotation can make the peanut discharge. After half an hour of baking, the crispy peanuts are ready.
Two Different Roasted Peanut Machines for Sale
Commercial Peanut Roaster
Large groundnut roasting machine is a nut baking production line composed of an elevator, baking machine, vibrating screen, and cooler. The whole equipment adopts a new intelligent electronic digital display temperature control device to automatically control the temperature, which can accurately control the baking temperature. So as to make the baked materials heated more evenly. The machine has a high degree of automation and can be operated by only one person. Moreover, the baking speed is fast and the output is high, which is suitable for baking in the nut production line. You can use the commercial peanut roasting machine in various nut production lines. At the same time, we can customize according to customer needs.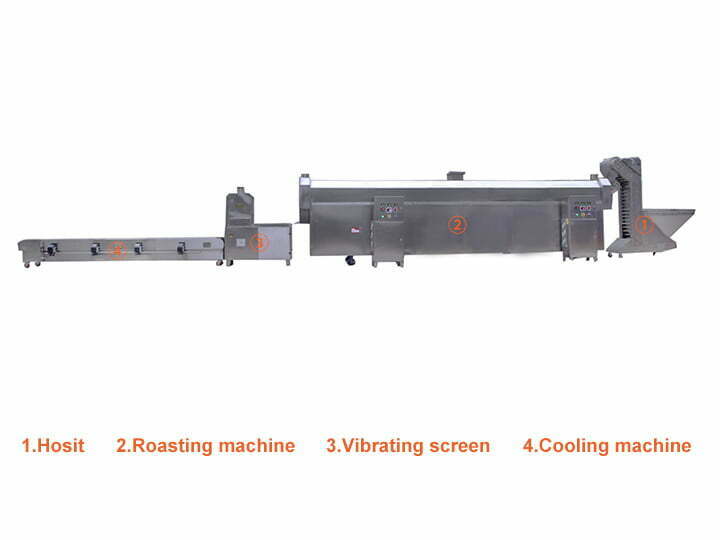 Machine's Parameter
| | | | | | | |
| --- | --- | --- | --- | --- | --- | --- |
| Model | Capacity | Power | Motor Power | Voltage | Size | Drum Size |
| TZ7-25 | 80-100kg/h | 4-32kw | 1.5kw | 380v | 3.1*1.01*1.85m | 0.7*2.5m |
| TZ5-40 | 100-250kg/h | 7-56kw | 1.5kw | 380v | 4.5*1.01*1.85m | 0.5*4m |
| TZ7-60 | 150-400kg/h | 10-80kw | 2.2kw | 380v | 6.4*1.01*1.85m | 0.7*6m |
| TZ9-100 | 600-1000kg/h | 25-200kw | 5.5kw | 380v | 11.5*1.25*2.01m | 0.9*10m |
There are four types of commercial peanut roasters in shuliy machinery. The output is 80-100kg / h, 100-250kg / h, 150-400kg / h and 600-1000kg / h respectively. You can choose different models of machines according to your needs. And the baking time is about 30 minutes. But it should be noted that during the first baking, the machine needs to be preheated, so the first baking time is about 45 minutes.
Small Peanut Roaster
Small peanut roasting machines are mainly heated by electromagnetic. It is also suitable for baking all kinds of nut raw materials. The small peanut baking machine has the characteristics of fast baking speed, simple operation, energy-saving, and safety. This machine uses the principles of heat conduction and heat radiation to heat materials.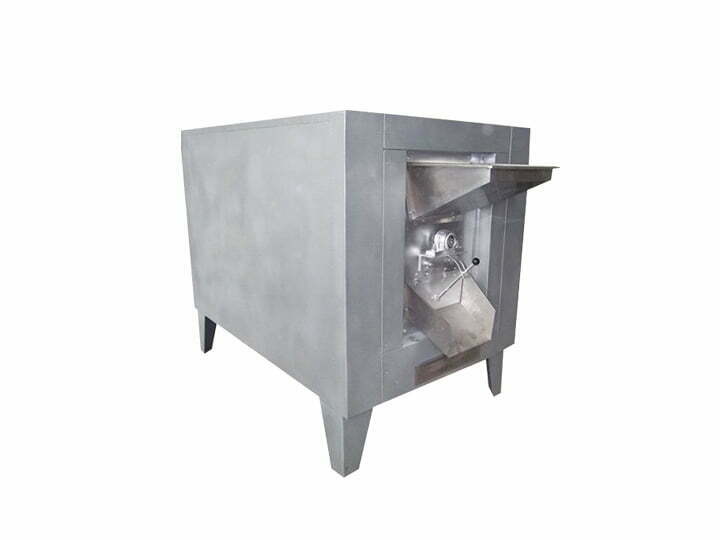 Machine's Parameter
| | | | | | |
| --- | --- | --- | --- | --- | --- |
| Model | Size(mm) | Capacity(kg/h) | Motor Power(kw) | Electrical Heating(kw) | Gas Heating |
| MHK-1 | 3000*1200*1700 | 80-120 | 1.1 | 18 | 2-3 |
| MHK-2 | 3000*2200*1700 | 180-250 | 2.2 | 35 | 4-6 |
| MHK-3 | 3000*3300*1700 | 280-350 | 3.3 | 45 | 6-8 |
| MHK-4 | 3000*4400*1700 | 380-450 | 4.4 | 60 | 8-10 |
| MHK-5 | 3000*5500*1700 | 500-650 | 5.5 | 75 | 10-12 |
The minimum output of our small peanut roasting machine is 80-120kg per hour. You can choose two machines with different heating methods. And there are five types for you to choose from. Therefore, if you have a small nut production plant, then you need this machine.
Peanut Roasting Machine for Home
At present, there are few home peanut roasters on the market. If you want to bake peanuts at home, baking in an oven is the simplest and fastest way. First, you need to rinse the peanuts with clean water. Then drain the water and adjust the oven to 140 degrees to dry the water. Then add a small amount of edible oil to the peanuts, wrap them all evenly, and put them in the baking pan. Adjust the oven temperature to 170 ℃, bake for about 10 minutes, take it out, add salt, stir evenly, and let it cool before eating.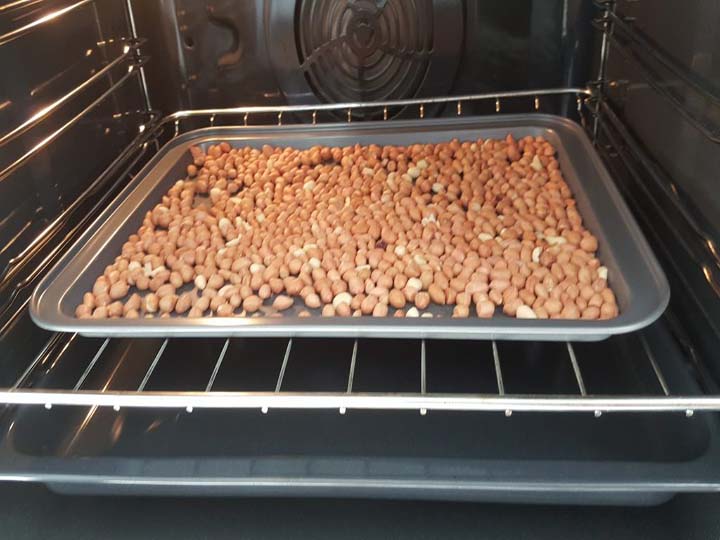 The Application of Groundnut Roasting Machine
The groundnut roasting machine is suitable for cashews, chestnuts, walnuts, almonds, broad beans, coffee beans, melon seeds, almonds, hazelnuts, pistachios, and other materials. It should be noted that when processing different materials, the screen inside the peanut baking machine needs to be adjusted. For example, melon seeds are relatively small, so the size of the screen should also be reduced. If you have any questions about the peanut roaster, please feel free to contact us and we will reply to you as soon as possible.