Peanut products, such as peanut, peanut kernel, peanut butter, and peanut oil, are common foods in ordinary people's family life. If you want to make the shelf life of peanuts longer, you need to use a peanut drying and baking machine. There are two kinds of peanut roasting machine: continuous groundnut dryer machine and rotary drum roller groundnut roasting machine. Next, we will explain the difference between their performance advantages and application scope.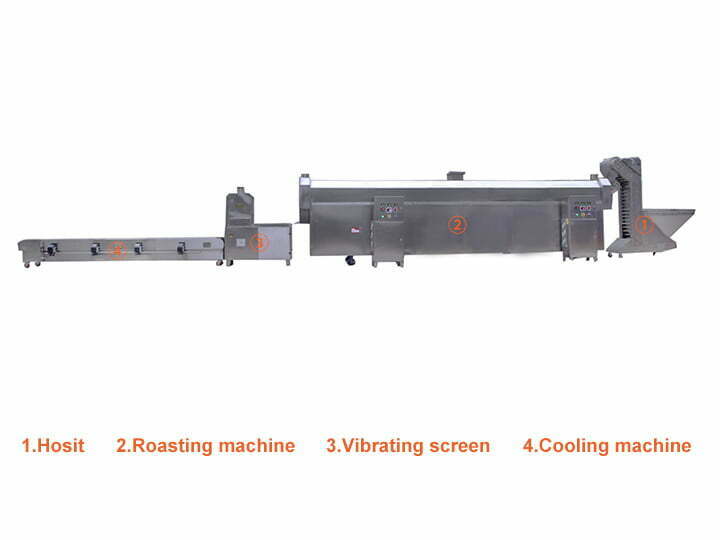 Advantages of continuous peanut oven
It can be used more widely, and the baked products have higher quality.
The baking quality is high, and the product after baking has uniform color and luster without breakage.
Accurate temperature control by temperature controller and temperature sensor can ensure that the temperature is kept within a stable range.
This commercial peanut roasting machine is convenient for adjustment. During the continuous baking of materials, the paving thickness, conveying speed, and heating temperature can be adjusted according to the process requirements of different materials.
Simple operation and convenient setting of appropriate temperature.
The external maintenance door adopts a structure that is easy to disassemble and assemble, which is convenient for maintenance.
Advantages of rotary drum commercial peanut roaster
Hygienic and convenient, fast temperature rise, stable performance, and low power consumption.
Low operation cost, long service life, and simple operation and maintenance.
Automatic temperature control device.
During the baking process of the peanut oven, the baked object is continuously pushed by the propulsion device in the cylinder to form an uninterrupted cycle, so that it can be heated evenly.