The small peanut roaster machine is the machine for roasting nuts and other food processing. In Taizy machinery, the dehydration and roasting processing of peanuts is mainly carried out with this equipment. In addition, this small peanut roaster machine uses both electric and gas heating to meet the processing needs of customers.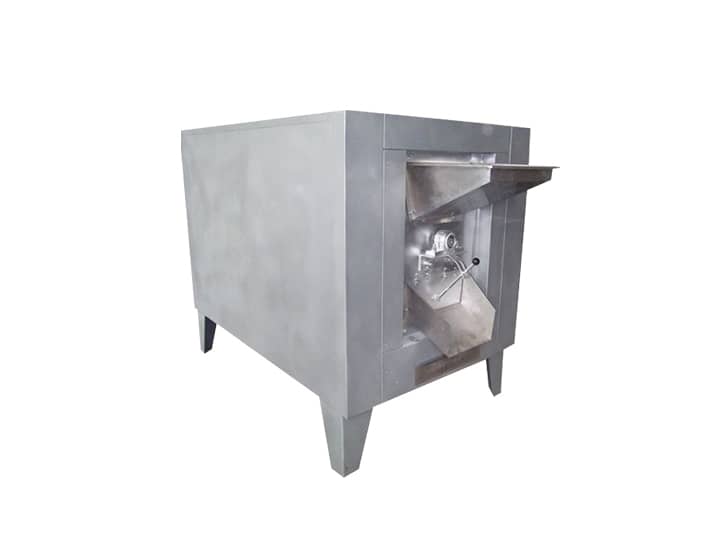 Advantages of small peanut roaster machine
Peanut color and luster uniformity
Groundnut roaster with hot air as the medium, the internal design of the equipment is a 360 ° mesh rotary cage structure. This can make the material in the baking process constantly turning so that the heat better penetrates into the material. Therefore, it achieves even heating and uniform color.
Constant temperature baking
The groundnut roasting machine not only heats up quickly but also adopts the automatic temperature control device. You can adjust the internal temperature between 0-300 ℃. After the temperature is set, the small peanut roasting machine can bake the peanuts at a constant temperature according to the set temperature. This can also ensure the flavor of the material after baking.
Multiple types of heat sources
The equipment can use electricity, liquefied gas, natural gas, and gas as the heat source to meet the needs of different customers.
Energy-saving and environmental protection
Gas heating type groundnut roaster is the use of a high-quality infrared catalytic burner for material baking. This realizes the flameless catalytic combustion of gas. In addition, it has the characteristics of a high utilization rate of thermal efficiency. And the gas consumption of a single drum is only 2-3Kg/h.
Electric heating adopts a thermostat to automatically control the heating system on and off, which not only saves energy but also controls the temperature more accurately. At the same time, the equipment also adopts thermal insulation cotton to avoid the loss of heat.
Simple control
The temperature control meter can display the current temperature and set the temperature for user observation and adjustment.
Small footprint, high economic efficiency
This peanut roaster machine is designed by professionals, with a compact structure, and a reasonable layout. So, the overall use of a high-strength frame structure is strong and durable.
Summary
You can make a variety of different delicious snacks with peanuts after roasting and processing, such as peanut butter, peanut candy, etc. To process these foods, roasting is a very important step in processing. The small peanut roaster machine can meet this need. And in Taizy machinery, we have many types of peanut roasters for sale. Therefore, if you want to know more, please feel free to contact us!