The peanut roasting machine is suitable for roasting peanuts, almonds, cashews, cocoa beans, and other nuts. Therefore, it is also named a peanut roaster, a cocoa bean roaster, cashew nut roaster machine, etc. According to the different heating methods of the roasting machine, the nut roaster machine can be divided into electromagnetic roasting machines and ordinary electric and gas roasting machines. Each roasting machine has a variety of models and outputs. And these two kinds of peanut roasting machines are controlled by intelligent control panels, which is very convenient.
Continuous peanut roasting machine application range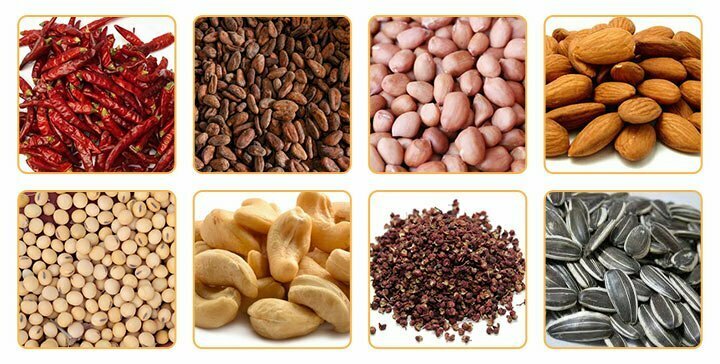 Nuts: peanuts, almonds, cashews, chestnuts, walnuts, hazelnuts, pistachios
Oil pressing: sesame, peanut, rapeseed, soybean
Puffed food baking: rice, millet, shrimp crackers
Seasoning processing: pepper, pepper, cumin, star anise
Type 1: Electromagnetic peanut roasting machine
Electromagnetic peanut roasting machine mainly uses electromagnetic as the main heating method. It has a wide range of applications and is widely used in roasting various raw materials in the food processing industry. It has small and large models to meet the needs of large and small food processing plants. Therefore, we have small nut roasting machine and large peanut roasters for your choice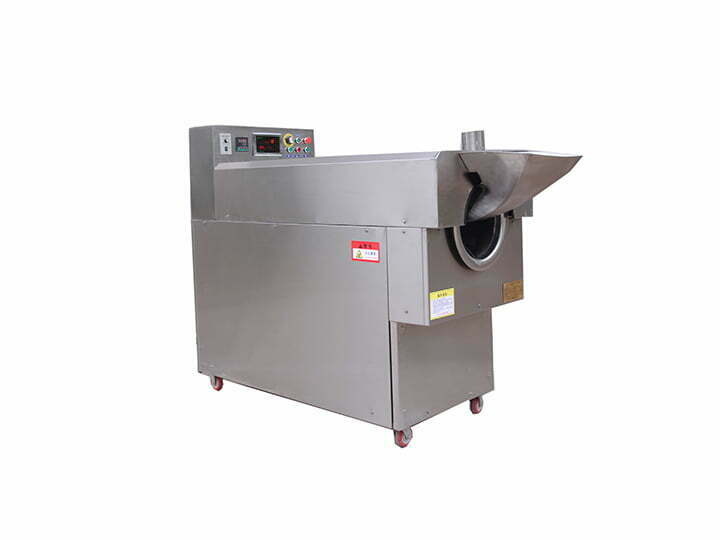 Advantages of electromagnetic peanut roaster machine
Energy-saving. The electromagnetic nut roaster machine directly transmits the generated heat source to the pot body without using any heat conduction method. Therefore, it is more power-saving, time-saving, and reduces thermal radiation.
Long service life. The electromagnetic peanut roaster machine adopts a unique design to separate the machinery and electrical appliances. This makes the machine without any wear when rotating, thus greatly reducing the failure rate of the machine.
Environmental protection. The roaster machine uses electromagnetic direct heating, which has zero carbon emissions to the working environment.
Easy to operate. This roaster machine for nuts uses an intelligent control panel to operate the machine, which can easily control the temperature and other parameter settings. Therefore, it can satisfy the baking of raw materials with different temperature requirements. Moreover, the rotation speed of the toaster can be adjusted.
Intelligent temperature control. The machine heats up quickly, and the outside of the machine is equipped with insulation cotton to ensure that the internal temperature will not quickly lose.
Small roaster machine models
| | | | | | | |
| --- | --- | --- | --- | --- | --- | --- |
| Model | capacity | Power Range | Motor Power | Voltage | Size | Drum Size |
| TZ5-5 | 10-30kg/h | 1.5-7.5kw | 0.25kw | 380v | 0.965*0.66*1.3m | 0.5*0.5m |
| TZ5-12 | 30-70kg/h | 3-15kw | 0.4kw | 380v | 1.58*0.667*1.4m | 0.5*1.2m |
| TZ7-10 | 50-250kg/h | 4-32kw | 1.1kw | 380v | 1.65*0.95*1.52m | 0.7*1m |
| TZ7-12 | 50-250kg/h | 4-32w | 1.1kw | 380v | 1.772*0.957*1.6m | 0.7*1.2m |
| TZ7-15 | 100-350KG/H | 6-32KW | 1.1KW | 380V | 2.072*0.957*1.6m | 0.7*1.5m |
| TZ7-32 | 150kg/batch | 4-40kw | 1.5kw | 380v | 3.472*1.012*1.6m | 0.7*3.2m |
Large peanutnut roaster machine
The large-scale peanut roasting machine is a nut roasting production line consisting of a hoist, a roasting machine, a vibrating screen, and a cooling machine. The machine has a high degree of automation, and it can be operated by one person. The machine has a fast roasting speed and high production output, which is suitable for roasting in the nut production line. As mentioned above, you can use this machine in a variety of nut production lines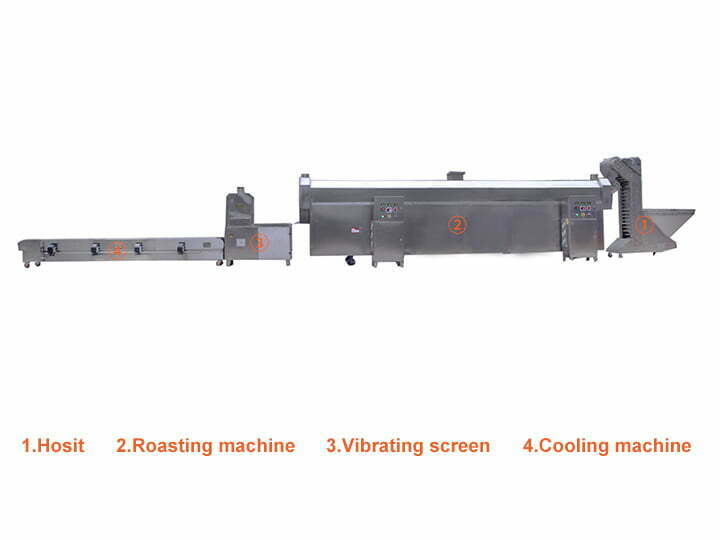 Large roasting machine parameters
| | | | | | | |
| --- | --- | --- | --- | --- | --- | --- |
| Model | capacity | Power Range | Motor Power | Voltage | Size | Drum Size |
| TZ7-25 | 80-180kg/h | 4-32kw | 1.5kw | 380v | 3.1*1.01*1.85m | 0.7*2.5m |
| TZ5-40 | 100-250kg/h | 7-56kw | 1.5kw | 380v | 4.512*1.01*1.85m | 0.5*4m |
| TZ7-60 | 150-400kg/h | 10-80kw | 2.2kw | 380v | 6.407*1.01*1.85m | 0.7*6m |
| TZ9-100 | 600-1000kg/h | 25-200kw/batch | 5.5kw | 380v | 11.5*1.25*2.01m | 0.9*10m |
Type 2: Electrical and gas peanut roaster
The nut roasting machine uses multiple energy sources as heating methods, such as electricity, gas, coal, and oil. The heat generated by the heating source is transferred to the heating roller, and then the raw material is heated. It is suitable for granular materials such as peanuts, almonds, cocoa beans, chestnuts, coffee beans, melon seeds, etc. This machine is not only suitable for baking materials, but also for drying nuts.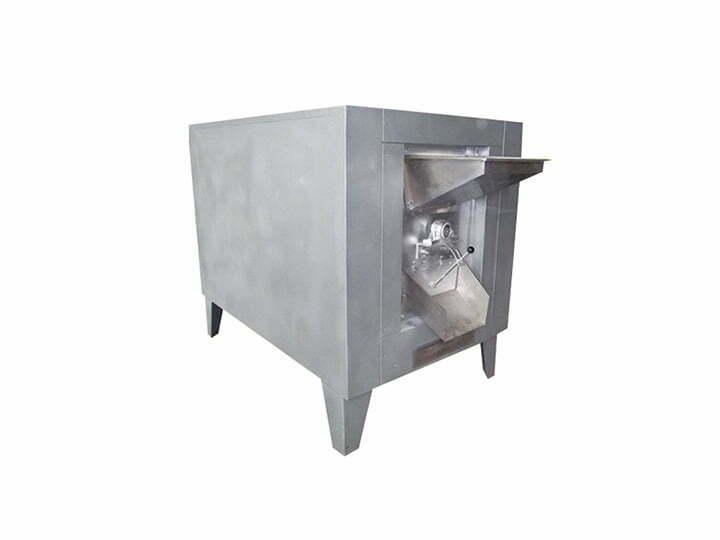 Advantages
This machine is suitable for roasting most nuts and widely applied in the nut processing industry.
The peanut roaster has a variety of heating methods, suitable for energy selection in different regions
The peanut roasting machine can be customized according to the customer's raw materials and output
The peanut roaster machine with multiple drums can work at the same time, which is convenient to use, energy-saving, efficient and durable
The heating temperature range of the nut roaster is 0-300 degrees and can achieve a constant temperature.
The machine has a good roasting effect, and will not destroy the integrity of peanuts when roasting peanuts and other raw materials.
Machine parameters
| | | | | | |
| --- | --- | --- | --- | --- | --- |
| Model | Size(mm) | Capacity(kg/h) | Power(kw) | Electric heating power(kw) | Gas consumption(kg) |
| TZ-1 | 3000*1200*1700 | 80—120 | 1.1 | 18 | 2-3 |
| TZ-2 | 3000*2200*1700 | 180—250 | 2.2 | 35 | 3-6 |
| TZ-3 | 3000*3300*1700 | 280—350 | 3.3 | 45 | 6-9 |
| TZ-4 | 3000*4400*1700 | 380—450 | 4.4 | 60 | 9-12 |
| TZ-5 | 3000*5500*1700 | 500–650 | 5.5 | 75 | 12-15 |