Cashew nuts peeling machine is specially made for cashew skins. It can easily separate cashew nuts from cashew nut skins. At Taizy Machinery, We provide you with a high-quality cashew nuts peeling machine. It can be used not only to separate cashew nuts and cashew peel, but also to treat the epidermis of various nuts such as peanuts, garlic, and hazelnuts. Therefore, this machine is the main machine of the cashew nut production line. If you have a cashew nut factory or want to peel cashew nuts quickly, our cashew nuts peeling machine will be your best choice.
How to peel cashew nuts quickly?
It is not easy to deal with cashew nuts, because the peel of cashew nuts is very difficult to peel. If you peel the peel of cashew skin with ordinary tools, it will be a particularly distressing thing. Because it is not only a waste of time but also easy to hurt hands. In the case of having a nut factory, a cashew nut peeler is a necessary machine.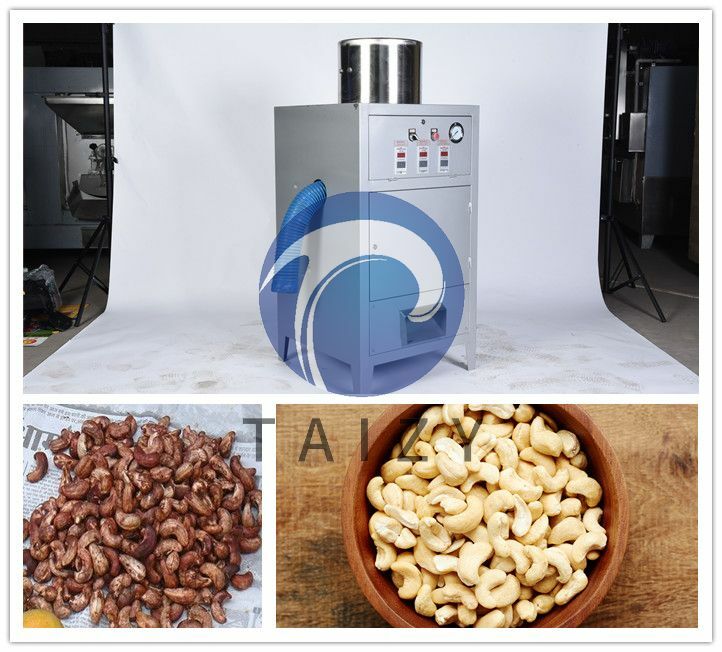 Machine parameters

| | | | |
| --- | --- | --- | --- |
| Model | Weight | Size | Capacity |
| GHT150 | 70kg | 640x660x1370mm | 150kg/h |
| GHT300 | 110kg | 740x740x1685mm | 300kg/h |
| GHT600 | 160kg | 1140x910x1750mm | 600kg/h |
In Taizy, we have three different models of cashew nut production machines for you to choose from. They are 150kg / h, 330kg / h and 600kg / h respectively. Therefore, if you want to get more cashew nuts in a short time, we recommend you buy the cashew nuts peeling machine with a production capacity of 600 kg / h.
How does the cashew peeling machine work?
This cashew peeling machine is of a gas method, which is specially developed for cashew nut peeling and can effectively separate the kernel from the kernel skin. The machine is the key component of the cashew nut production line and the best choice for cashew nut processing manufacturers. Cashews peeling equipment can be used for dry peeling of cashew nuts. And the peeling rate is more than 98%. Compared with 96% of our peers, our machine has more advantages. In addition, it makes up for the defect that the ordinary peeling machine can only be applied to wet cashew nuts, greatly improves the production efficiency of cashew nuts, and reduces the workload of manual operation.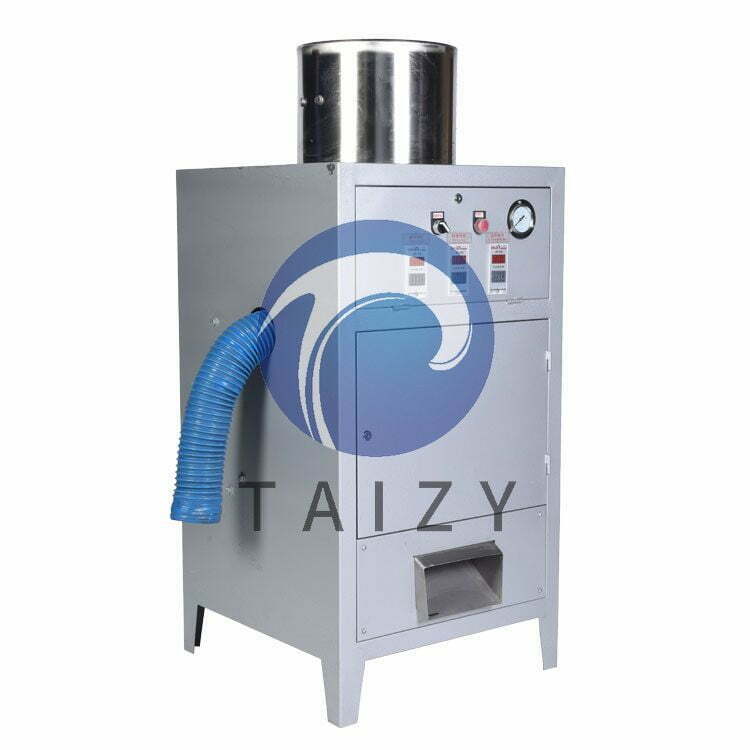 Characteristics of the cashew nuts peeling machine
Our peeling machine has a large capacity and convenient maintenance.
Easy to operate.
It has high production efficiency, the peeling rate can reach more than 98%.
Fully automatic, saving manpower
It is widely used to peel peanuts, garlic, hazelnuts, etc.
Stainless steel, easy to operate, clean, durable and hygienic.
Find reliable cashew peeling equipment manufacturers
Do you want to find reliable cashew peeling equipment manufacturers? We can answer this question for you.
After-sales service: a trustworthy cashew nuts peeling machine manufacturer must have good after-sales service. As a manufacturer specializing in nut machinery, Taizy has the best after-sales service. You don't have to worry about problems that can't be solved.
Company life: our company was established in 2010 and has more than ten years of mechanical production experience. If our machines are of poor quality, we can't exist for such a long time.
Customized service: Manufacturers with sufficient strength often have their own R&D and manufacturing teams to meet the requirements of different customers.
As a professional cashew peeling machine manufacturer, we can fully meet the needs of different customers.
What is the price of a cashew processing machine?
To be honest, different models of machines have different prices. If you want to know the specific price of the nuts peeling machine, you can send us an email. Our salesman will introduce the price of the machine to you in detail according to your country. And they will also answer your questions in detail. If you have any questions, please contact us and we will reply to you as soon as possible.