The peanut coating production line processes peanuts in a large scale. It consists of roasting, coating, cooling machines and others. There are 50kg/h, 100kg/h, and 200kg/h coated peanut processing lines. And the machine can also make honey coated peanuts or cashew nuts. The coated peanuts produced by this line are delicious. And the machines are high-efficient, easy to operate.
Introduction of coated peanut
There are two methods of coating peanuts, one is to wrap flour with sugar water, and the other is to wrap glutinous rice flour. The coated peanuts could served for eating directly, packaged into bags, or made as an auxiliary material for making cakes.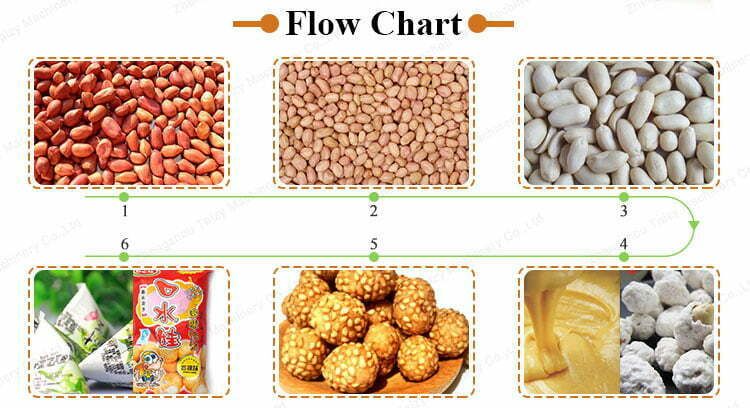 Coated peanut processing line process
The steps of making coated peanut burger include roasting, peeling, coating, baking, flavoring, cooling, and packaging.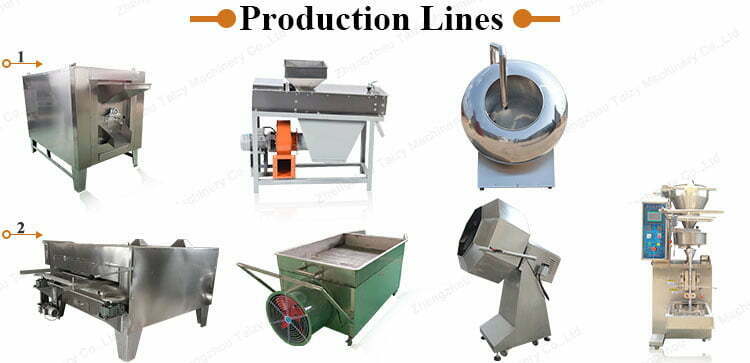 The peanut roaster is mainly for roasting or drying peanuts, chestnuts, walnuts, almonds, coffee beans, melon seeds and other materials. This machine uses electric heating, oil, or gas, or coal as the heat source. Using rotary drum, heat conduction, heat radiation principle. It is energy-saving. The raw material is not in contact with the fire during baking. The machine has the advantages of convenient use, high efficiency, energy saving, and durability. The baked products are of good quality, hygienic, and taste, and can meet export standards.

The peeling machine uses dry peeling method, which has the characteristics of reasonable structure, stable operation, long service life and high removal rate. Multiple machines can connect to use, and the peeling quality can meet the export standard. Mostly, it is used for peeling of peanuts before production of peanut butter, peanut milk, coated peanut.

The peanut coating machine is used in the food industry to coat peanuts and other nuts. It can also for roasting beans and fruits. Workers add the syrup or glutinous rice flour into the machine. Customers can repeat the operation several times as needed to increase the thickness of the coating. The coating liquid can be sweet or salty as needed.

A feature of the sugar-coated pan is an adjustable inclination angle, and direct heating equipment. Such as an electric stove and gas, can be placed under the pan. And it matches with a separate electric blower, the outlet pipe extends into the pot for heating or cooling, and the heat can also adjust. It can match with a frequency converter, a dust removal system, or a fully enclosed form with a spray gun system.
The peanut swing roaster is mainly used to heat the coated peanuts. It can heat through electricity or gas, with a constant temperature system that can automatically set the temperature. The baking temperature is generally between 180℃ and 220℃. Usually, it takes 15 minutes to roast but that depends on raw materials and machine type. The capacity of small type oven is 60-80kg and 80-100kg. And the output of large type oven is 200-300kg. Workers pour raw materials into the oven, set the heating time and temperature, and peanuts will automatically discharge after finishing operation.

This seasoning machine is mainly for mixing and seasoning French fries, peanuts and puffed food. The surface of the machine and the parts in contact with materials are made of 304 high-quality stainless steel. It can connect with an external powder spraying device, or it sprinkles manually. The user can add the required condiments according to their needs. The structure is simple and the appearance is beautiful. And it maintains good sanitary conditions and meets food sanitation requirements.

Cooling machine
The cooling machine is used to cool fried or roasted hot materials for further packaging. It consists of two parts, a fan machine and a storage part. And there are two types, manual discharge cooling car and pneumatic automatic discharge car. The automatic type needs to match with an air compressor, and the air consumption is relatively small. The material contact part of the cooling car is made of stainless steel.

Turntable granule packaging machine
This pellet packaging machine is sutiabel for packaging nuts, dried fruits, snacks, and other food. There is a multi-function control panel, adjusting the weight and number of packaging bags. The inner parts adopt stainless steel. A well-heated aluminum block set at the sealing part, to achieve the best sealing effect. In addition, we can equip other parts to print logo, connect bags, count number etc.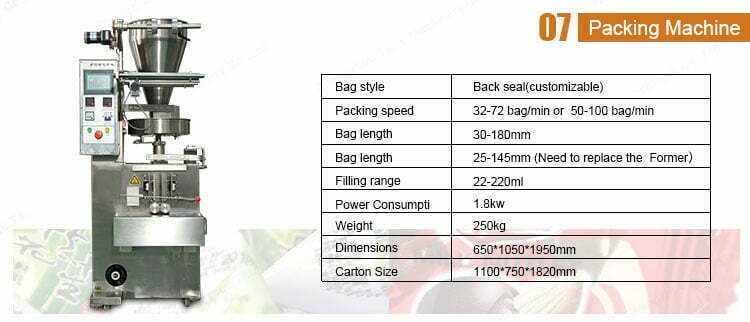 Video of peanut coating steps
Advantages of peanut coating production line
Machines in this processing line have multiple types, and could produce a great amounts of peanuts. So it is suitable for peanut prodution plants.
The key parts of these machines are made of stainless steel, ensuring the good taste of products.
The order of cooling part and flavoring machine could adjust according to customer's demands so as to achieve the best productino effect.
Product pictures of making coated peanut burger