The coated peanuts are rich in nutrients and wrapped in blended powder and seasonings. The processing equipment is mechanized and easy to operate. Peanut coating machines mainly include a roasting machine, peanut peeling machine, coating machine, vibration baking oven, seasoning machine, cooling machine, packing machine.
Working process of peanut coating machines
Roasting Machine: It mainly applies to peanut, cashew nuts, chestnut, walnut, almond, swallow beans, beans, melon seeds, and other granular materials baking or drying. Gas or electric heating can be customized.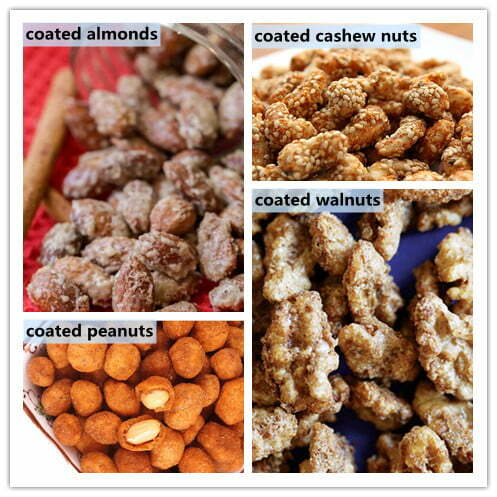 Peanut peeling machine: This coated peanut machine adopts the method of rolling and peeling, which has the advantages of stable performance, long service life, good peeling effect, high productivity, low half grain rate, and good quality. It is suitable for processing all kinds of peeled peanuts, almonds, and so on.
Coating Machine: Put the roasted peanut into it and the peanut will combine with flour(or other addition) uniformly.
Swing roasting machine: Plane rotary mixing style, using stainless steel. Peanut can get uniform heat, high capacity, low broken rate, pollution-free.
Seasoning machine: The peanut coating machine body is an octagon, which can season and mix peanuts with flavoring liquid fully and evenly in a short time. It discharges products by tilting itself.
Cooling machine: It combines with a variable speed drive device, cooling box, cooling fan. Centrifugal cooling fan, electromagnetic speed, high output, no damage, no pollution, good effect.
Packing machine: there is air inflation, you can buy nitrogen, then connect with the coated peanut machine, and fill the bag.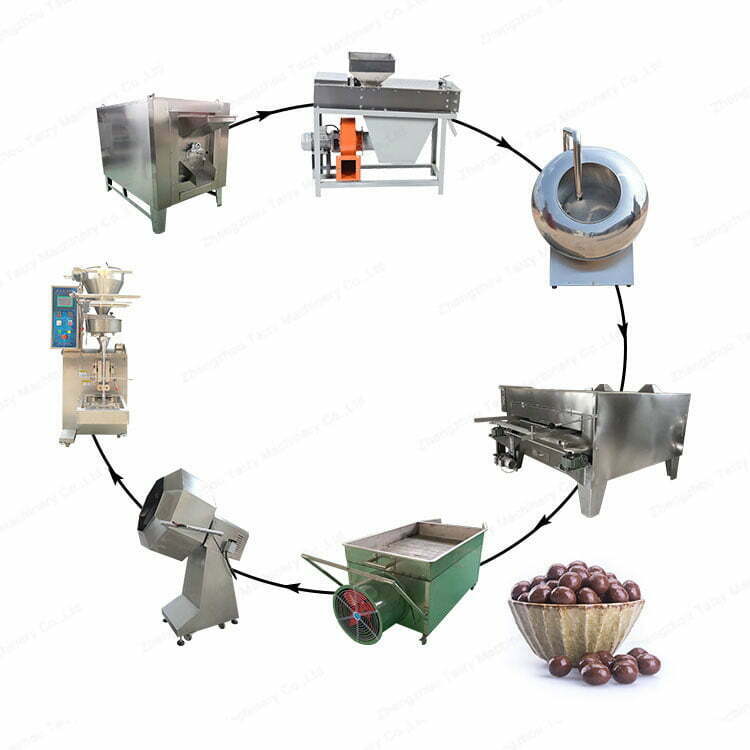 Customers could make a coated peanut processing plant according to their capacity, heating method, and others.
Wide application of peanut coating machines
These machines could also process cashew nuts, almonds, walnuts, and other nuts.
The main parts of peanut coating machines are stainless steel and customers could make fully stainless steel machines according to their production demands.