The Taizy hazelnut processing line is designed and manufactured by Taizy Nut Machinery for the efficient processing of hazelnuts. This line is designed to simplify the various processing steps of hazelnuts for eating, further processing, or packaging. The Taizy hazelnut processing line creates a uniform slit in the hazelnuts for easy shelling by the eater. This line minimizes damage to the inner edible kernel.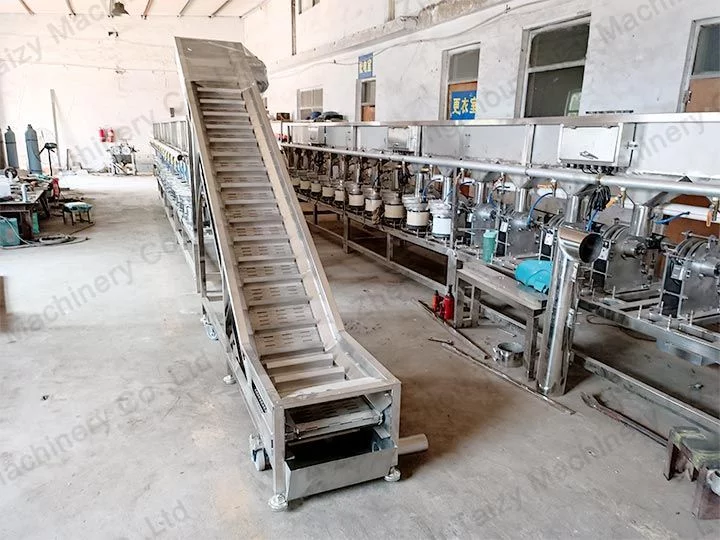 The Main Hazelnut Processing Equipment in Hazelnut Processing Line
In the hazelnut processing line, the main hazelnut processing equipment includes:
Hazelnut soaking equipment
Hazelnut soaking machine is used to soak hazelnuts in warm water. The purpose of this machine is to soften the shells of the hazelnuts, thus preparing them for the subsequent shelling step. Hazelnuts need to be soaked in warm water at about 50 degrees Celsius for 30 minutes.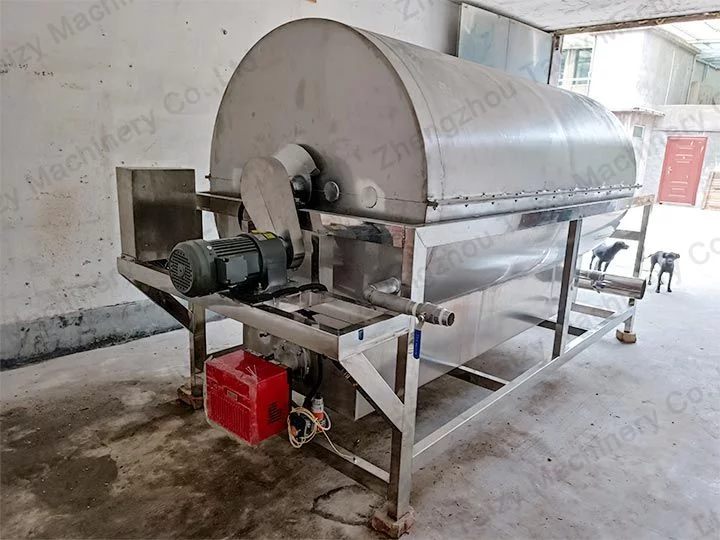 Elevator
The soaked hazelnuts are transported through the soaking machine to the hazelnut opener.
Hazelnut opening machine
This is one of the centerpieces of the hazelnut processing line. It is a hazelnut processing equipment that cracks the shell of the hazelnuts under the action of steam and a squeezing disk, which makes it easier for the consumer to shell the hazelnuts. There is a screw in the bin inside the opener, which distributes the hazelnuts in the bin evenly in the different opening channels. Each hazelnut shell opening line has a minimum of 5 opening channels, 5 hazelnut opening channels in a group. In addition, we have 2, 3 and 4 groups of hazelnut opening machine for you to choose from. The opening rate of our hazelnut openers is more than 97%.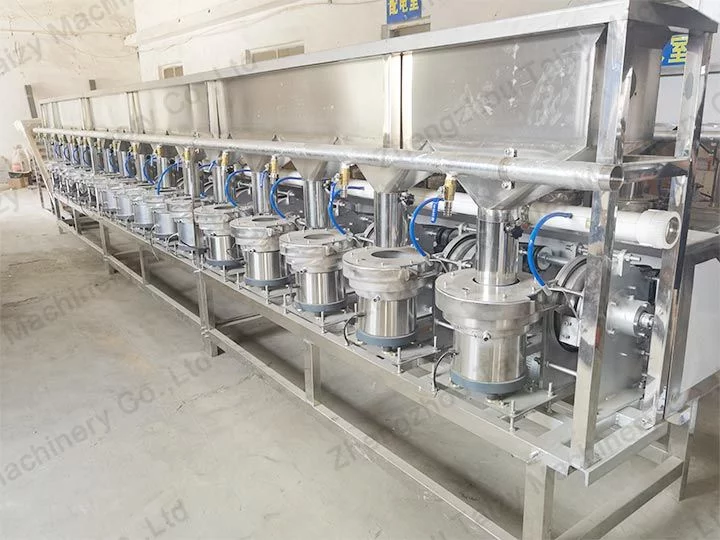 Conveyor Belt
The opened hazelnuts fall from the opener onto a conveyor belt that transports them from one processing stage to another, such as drying and packaging.
Hazelnut dryer machine
Hazelnut drying machine is used to remove moisture from hazelnuts to extend their shelf life. The process of drying hazelnuts is usually carried out at low temperatures to avoid damage to the hazelnut kernels.
Packing machine
After drying, the hazelnuts are packed in automatic packaging machines to ensure a hygienic and efficient packing process.
The Capacity of Hazelnut Processing Equipment
The capacity of the hazelnut shell opening line depends on the number of hazelnut opening machines. 2 sets of hazelnut opening machines have a production capacity of 250-300kg/h. 3 sets of hazelnut opening machines have a production capacity of 350-450kg/h. And 4 sets of hazelnut opening machines have a production capacity of 500-600kg/h. If you have any other production capacity requirements, please contact us and we can customize it according to your needs.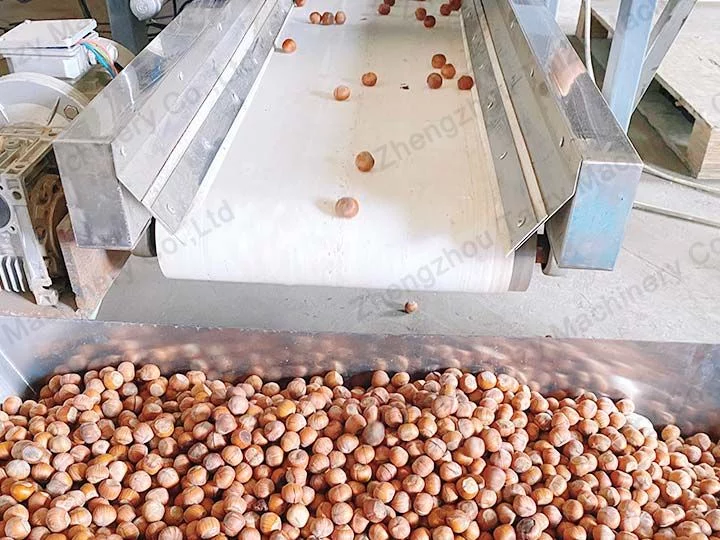 Technical Parameters of Hazelnut Processing Line
| | | | |
| --- | --- | --- | --- |
| Model | TZ-500 | TZ-700 | TZ-1000 |
| Power(kw) | 13.1 | 16 | 18 |
| Capacity(kg/h) | 250-300 | 350-450 | 500-600 |
| Natural gas consumption(m³/h) | 5 | 7 | 7 |
| Gas consumption of liquefied petroleum gas(kg/h) | 3.5 | 5.5 | |
From the above table, you can clearly know the power, output, natural gas consumption and liquefied gas consumption of this hazelnut processing line. If there is any other information you want to know, please feel free to contact us.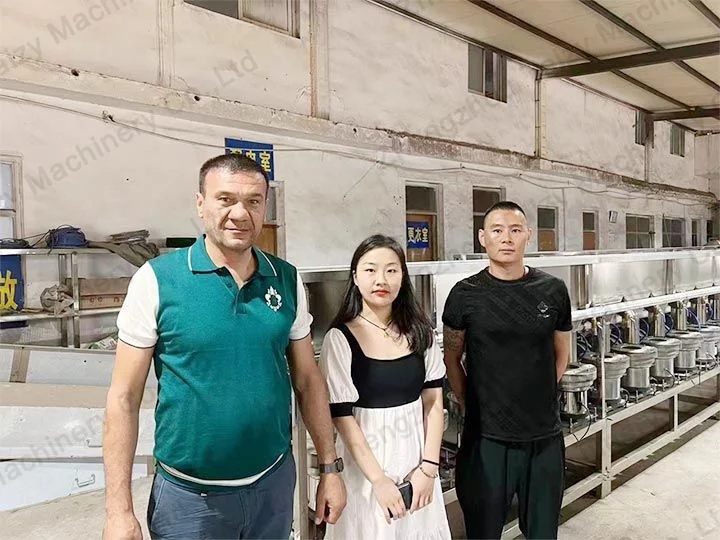 What Are the Advantages of the Taizy Hazelnut Shell Opening Line?
High efficiency: The Taizy hazelnut processing equipment uses advanced technology and automated equipment to process large quantities of hazelnuts in a short period of time. This increases productivity and reduces labor costs.
Precise opening: Thanks to innovative technologies such as steam and pressure, the Taizy hazelnut processing line creates precise slits in the hazelnuts and ensures that the shells are opened just right. Without damaging the nuts inside.
Quality Assurance: The Taizy hazelnut shell opening line is designed and engineered to maximize the integrity and quality of the hazelnuts. This helps provide a high quality hazelnut product for a variety of food manufacturing and baking applications.
Automated Controls: The line is equipped with an automated control system that provides precise control of the process to minimize human intervention and error, and improve consistency and reliability.
Customizability: Taizy can provide customized solutions to meet specific customer needs for different sizes and applications.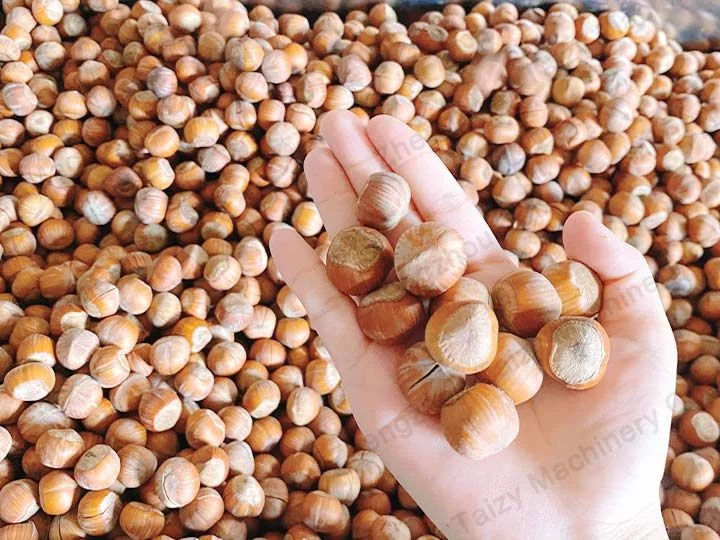 Which Countries Purchased Our Hazelnut Processing Machines?
So far, we have exported our hazelnut processing machines to Uzbekistan, Iran, USA, Thailand, Russia, Turkey, Georgia, Chile, and Italy. Therefore, we have rich experience in exporting and manufacturing hazelnut machines. If you are interested in hazelnut processing equipment, please feel free to contact us.